unDIAGNOSED: A Journey of Hope Paperback by Randy Beal
Never could Randy have predicted his life journey and the lessons he would learn. Despite his loss of vision and motor function, peripheral neuropathy and eventual confinement to a wheel chair, he was convinced his illness had a name and could be conquered.
Lyme disease, Multiple Sclerosis, African sleeping sickness, bad jet lag: all different diagnosis from over 30 doctors and specialists. No matter the debilitating and potentially life threatening illness stacked against him, Randy prepared to fight it and win. This book is his story.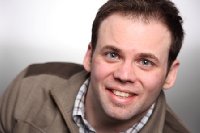 Randy lives in Joliet, USA with his wife Emily. He use to work in the railroad industry and was a leader in his church youth group.
unDIAGNOSED is his first book